safety
New Cleanliness Protocols
In light of the unprecedented and evolving COVID-19 pandemic, the safety of our guests and staff remains our utmost priority. Rest assured that we are being proactive in our efforts and have put additional protocols into place. Our Rest Easy initiative follows the recommendations set forth by the Center for Disease Control (CDC) and the Hawaii Lodging & Tourism Association (HLTA).
We hope that with an abundance of caution, there is an abundance of Aloha—and that during these challenging times we overflow in the kindness we extend to one another.
Highlights

Contactless Check-In
We are proud to be offering contactless check-in options in partnership with Canary Technologies. Guests will be texted a link with the option to check-in on remotely on their own devices.

Enhanced Cleaning
We use hospital-grade disinfectant and cleaning products to sanitize our rooms.
High-Touch Objects
We have increased the frequency of cleaning public spaces and high-touch surfaces.

Social Distancing
We have posted signage with physical distancing and hand washing procedures.

Hand sanitizer
Hand sanitizer stations will be available throughout the public areas of our hotel.

Ongoing Training
We are working closely with our team to meet cleaning and disinfecting standards.

Staff Safety Protocols
Masks will be mandatory for all guests and staff in public areas while on property.
Hawai'i Travel Update
Pre-Travel Testing Information
In order to bypass the current mandatory 10-day quarantine, visitors must upload a PDF of their negative COVID test from an APPROVED partner to their Safe Travels Hawai'i profile within 72 hours of boarding their flight. Please find detailed information on procedures, a list of approved partners and how to travel safely at the Hawai'i COVID 19 website.
Please note that visitors who do not have a negative COVID 19 test from an approved provider will still be required to quarantine for 10-days and that this will be enforced by the hotel in accordance with the guidelines set by the Governor.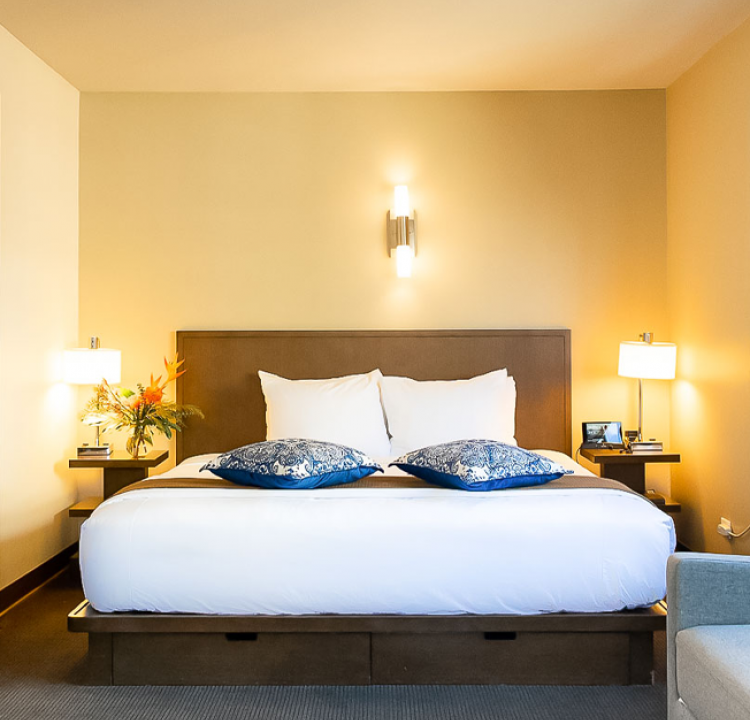 Complete Flexibility
1-day Cancellation Now and All of 2021
Rest easy and book with confidence! Enjoy extraordinary flexibility for future travel plans with a 24-hour cancellation policy for all new and existing reservations.