Hotel
AmenitiesAnd Services
High-speed Wi-Fi

24-hour coffee and tea

Business computer, fax, printer

Microwave

Convection oven

Communal meeting/workspace

Living room with board games

Water filtration station

Fruit-infused water

Deluxe continental breakfast

Multilingual staff & concierge

Hawaiian welcome beverage

Complete beach gear

Pack and Play**

We Forgot Program**

Personal care essentials**

Electric kettle**

Welcome champagne $

**available upon request
Buffet Breakfast
Wake up to freshly brewed Kona coffee, mouthwatering hand-cut tropical fruit, and delectable pastries baked daily on the island! Our Deluxe Continental Breakfast also includes a rotating selection of tasty breakfast sausages, egg omelettes, crispy bacon, and hard-boiled eggs.

*Breakfast items and operations may vary due to COVID pandemic.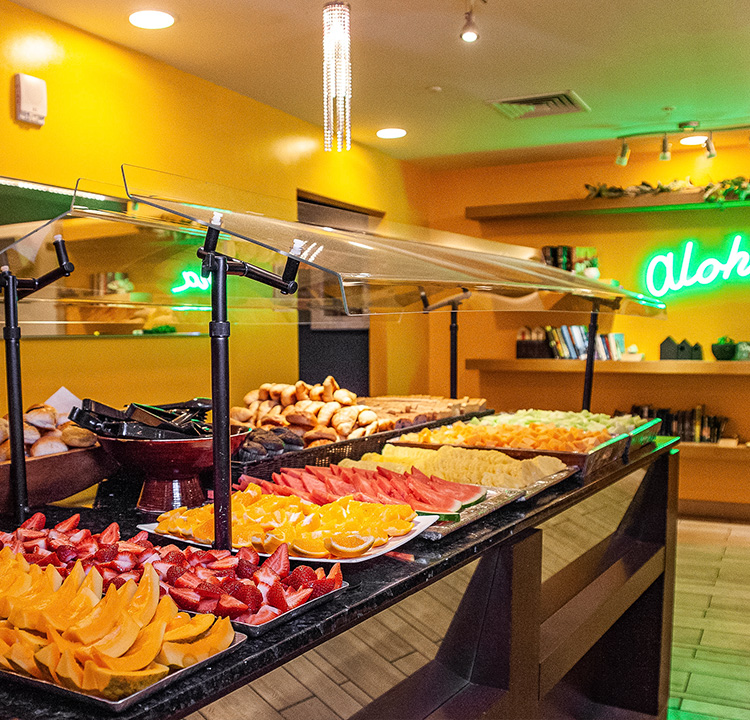 Beach Gear
Soak up the sun and relax under palm trees with the cool blues of the Pacific Ocean beckoning you to get on island time. We have all the beach gear you need, including: beach umbrellas, mats, boogie boards, towels, chairs and even beach toys for keiki (kids). Enjoy the gentle breeze and the warm sand under your feet, we know you'll love it here.
Valet Parking
Valet parking is available for a daily fee of $35 with unlimited in and out privileges. Check out our Specials Offers for discounts on parking. Our garage has a height limit of 6 feet—jeeps and vans will fit, larger SUVs will not. Should your vehicle not fit in our garage, kindly look for other parking options along Kuhio Avenue.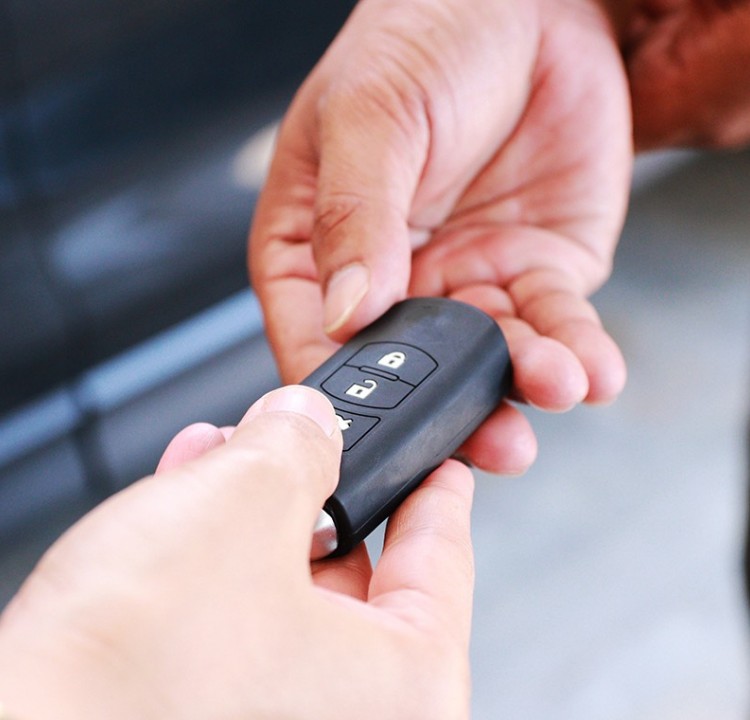 Concierge
Leave the planning and recommendations to our local experts! Our dedicated concierge are here to help every part of your stay be memorable. Whether it's arranging for rose petals to be scattered on the bed upon arrival or booking breathtaking tours of unparalleled beauty on the island, we are happy to make arrangements for you. Call 808-462-5909 or email concierge@vivehotelwaikiki.com for personalized service.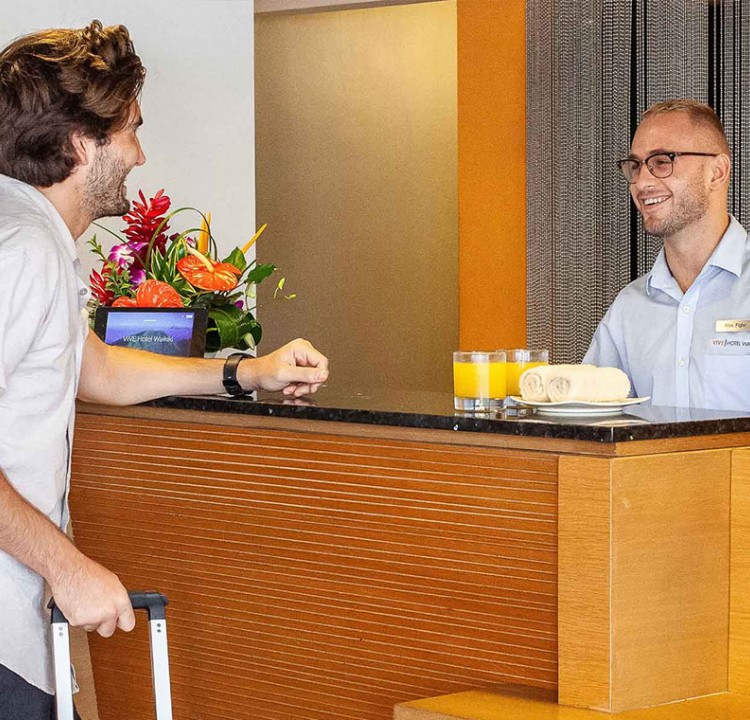 The Living Room
Embrace the local vibe of Waikiki right in our Living Room—a place to gather, share stories, and connect with one another. Enjoy live music, local art shows, movie screenings, game nights, and seasonal events. From ukulele jams to lei-making, experience Oahu's vibrant music, art, and food scene right here in our Living Room.

*Guest events are currently suspended due to the COVID pandemic.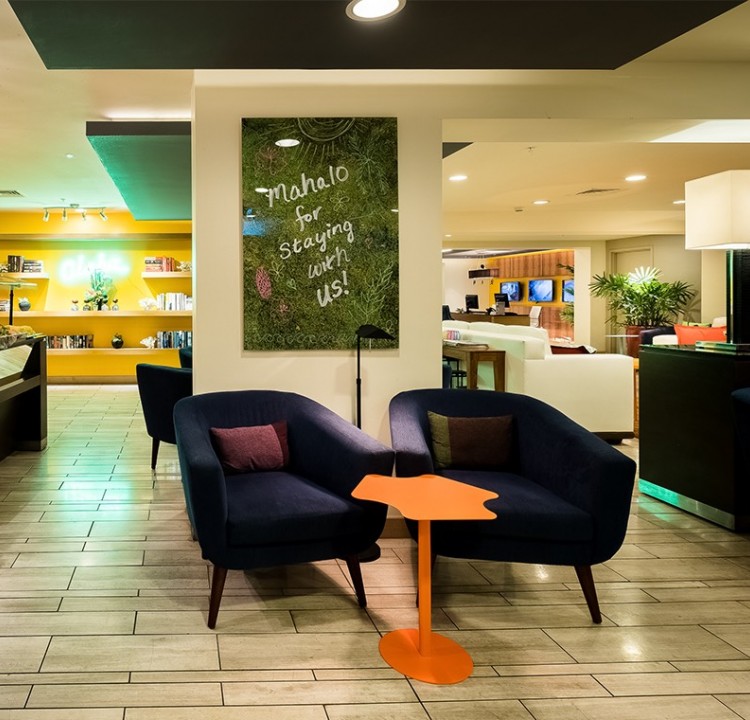 Olina Gift Shop
Meaning "joyous" in Hawaiian, Olina is a store that celebrates island art and the spirit of the local artisans of Waikiki and Oahu. Our gift shop offers a fun collection of prints, natural body products, jewelry, and gifts all made in Hawaii. Enjoy our favorite brands, artists, and makers.
Authentic Local Art
A story told in 14 floors, Flowers, Surf and Aloha allows our guests to experience authentic local art seamlessly as a part of their stay. Each floor features unique, hand-painted work celebrating Hawaii, Waikiki and the true meaning of aloha.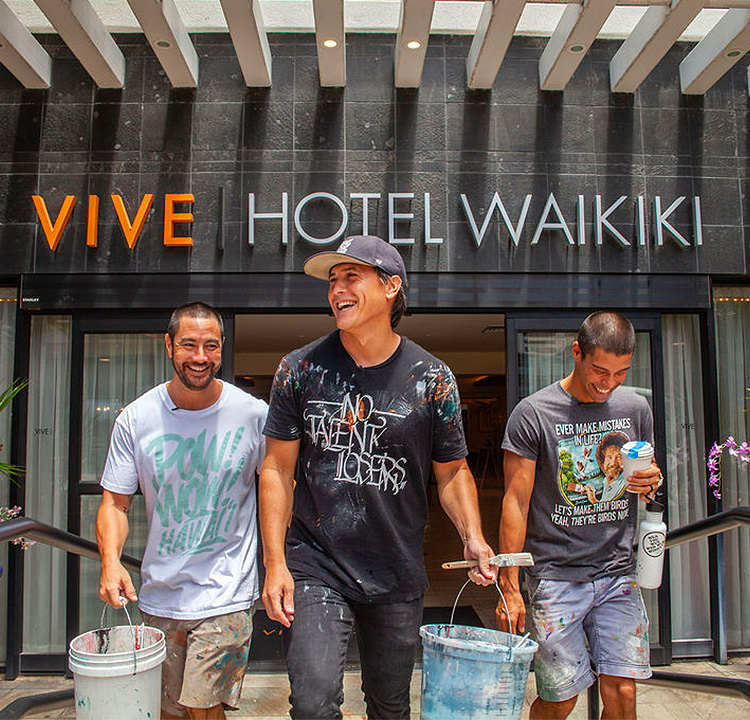 a picture perfect

Vacation Destination